I'm adding a new post to consolidate information:
'70 w/ 428CJ (now SCJ), 4-speed. Competition Green, White Standard Interior. Docs. In MN for $75k.
[Album] 0F91Q509780 - For Sale - $75k - May 2023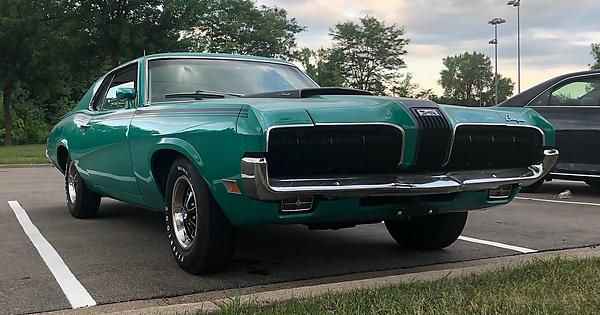 Jason.barron.phd@gmail.com
0F91Q509780
Flickr website now has pictures of exterior and interior of car, underside of car, pictures of magnet on areas people are normally worried about, along with videos of the car running and driving. I'm happy to provide more information or any additional pictures or videos wanted.
Additional part numbers I was able to obtain off the car:
Engine - Date coded to 8M02; did not see a VIN on the block. Could be covered by paint.
Intake manifold - C80E-9425-C (date: 9D15)
Carb - C9AF-9510-U (List 4609)
Heads - C8OE-6090-N
Exhaust manifold - C80E-9431-B (Driver side); passenger side couldn't tell; dates couldn't read.
Radiator - C8ZE-L1
Water pump - D4TE-85…couldn't read completely, but obviously a replacement
This (the comp green Eliminator) is my car. I have been a member here for a while but haven't posted much lately.
My goal is to sell the car to someone that has time and appreciation for it. I want the transaction to go well for both parties and so I am happy to provide whatever information I can to ensure that the buyer is confident that they are getting what is represented. I know it's a lot of money.
Edit to add: I know there are tons of guys on here that love to collect these cars and have a stable of concours-level vehicles. I'm not that guy. If I have something, I want to use it. I wanted a big block eliminator that I could have fun with and not worry about. This car fit that well. However, with my kid becoming a teen, the car is about 5th on my list of summer "things to do," so seeing it sit around isn't making me happy and seems like a waste. I figure if I can find someone that can use it and we can agree on a price, then good for everyone.
Speaking of price - prior to reaching out to Mike, I talked to Don at WCCC. Don has not seen the car in person - only pictures - but we had a good discussion and I based my price on said conversation. Again, Don has not seen the car in person, has no link to it, and I am not saying he endorses any aspect of the car or me. I'm not locked into the price, but it felt fair. I'm sure everyone will have an opinion on it.
I will relay what I can about the car, but I did not do the restoration. I have owned the car since about 2016 or so. The car was listed here at that time and was located in Quebec. I shipped it back to the US at that time. My understanding is that it was restored in Michigan or Ontario by the previous previous owner, probably around the 2006 time frame. This seems to align with comments by a poster (Scott Moulton) on Facebook.
Subsequent to buying the car, I installed a tilt steering column, new heavy duty clutch z-bar, and had the steering box rebuilt by Chockostang. I had the Holley carb rebuilt, but I still didn't like how it ran, so I installed a Demon carb. The car runs really well with the Demon. Both carbs will be included. I also have the original exhaust manifolds.
The engine is not original to the car. I didn't see any information on the transmission, so I am not sure about the originality of the transmision. The engine information is listed above.
The car is recently back from the shop where I had some minor mechanical work done to ensure there are no issues. The shop fixed a power steering leak, a rear transmission seal leak, brakes checked, and replacement of the hood hinges with heavy duty ones from WCCC and fix the driver door alignment.
The car is an older restoration - probably 15 years +/-. My opinion is that the car looks good, with the paint be very good in most areas. There was some filler used in the restoration. I added pictures of a magnet adhering to various areas. The car had both quarters completely replaced. There is some body filler that was used in the typical spots (lower quarters, quarter to roof weld), but based on the magnet adhesion, I would say that it is no greater than 1/8".