Guys,
This is the 'Barn Find' California car that was sold on ebay back in March 2014. The car shipped out of Vancouver WA in June, along with a mountain of spare parts, and arrived in Brisbane Australia in July. Some hold ups in Customs when it arrived, and I collected it in early August.
I enjoy reading other folks' restoration stories, so thought I would start one for the GT-E
As you know the car sat for a long time and needed some work to get it going again. It was very difficult to get started and the brake system had a serious vacuum leak. Plus the suspension was clunking.
I was impressed by how original the car remained. The original Cardinal Red had been resprayed in that bad orange/coral paintjob, which has to go! The block was a Sep 68 dated dealer replacement. The Holley 4088 carb had been replaced by a 3310-2, with a 1975 date, so I figure that was when it was replaced. The distributor had been replaced by a Sep 67 dated C7MF-G, which appears to be for a 390 4V. The water pump was a replacement. The shock absorbers were Monroe Wylies. The smog tubes and check valves on both banks were replacements.
Other than those specific items, everything else on the car appears to be original as it left the factory. The heads are correct 'N' type CJ heads dated 2 Feb and 13 Feb 68, with correct VIN stamp. Correct smog pump, pulley, canister, dated Mar 68. Drivetrain all correct with original tags. Original small-bleeder brake cylinders that will be rebuilt. Almost every panel has a date code, including the hood scoop (3/25/68 handwritten on the underside) and all are around 25-29 Mar 68. The underside is remarkably rust free- the car spent its entire life around the Richmond/Sacramento CA area. This is the first time I had seen a California car like this - basically no rust, and every nut and bolt turns freely, quite amazing. There is surface rust on the roof, but it comes off with a light rub with 240 grit. There is one small patch in front of the right wheel arch where rust has developed. Also, the underhood liner is original- looking ragged now, but I need to figure out a way to repair it and stiffen the material.
The shock towers will need work. Both have had holes cut with a torch to allow access to the UCA zerk fittings (a really dumb idea!). Those holes have been the start point for several cracks. Depending on what I find when I pull the engine, i will either repair the cracks or replace the towers. I have a very nice set of minty towers from WCCC.
So that is the start state for the project.
1968 Mercury Cougar XR7 GT-E, 427, Cardinal Red with Black Leather interior, 3.50 Traction-Lok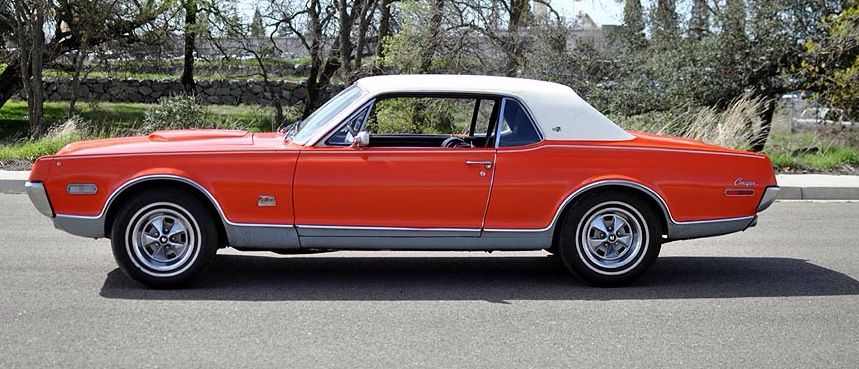 Mike