So what have we put on paper and hid in plain sight for our cats this year?
I already purchased and received all the upgraded suspension components for the Hero. I'm asking for Summit gift cards so I can get my new wagon project on the road.
I have a Christmas tree set up in the open spot in my garage for the GTE to arrive.

Cool. Both excellent. The suspension mods aren't going to mess with the stance too much are they? That car has an awesome rake. GTE. Now THAT'S a freaking gift.
My Christmas was the intake, and engine harness, followed by a Ruger from my wife, and the '65 Galaxie. I told everyone not to even think about having a box with my name on it after all of that.
Maybe an afternoon at the range.
All I want for Christmas is a new pressure hose for my power steering.

No. I'm leaving that alone.
Packages from WCCC, John's and NPD have arrived at our house the last couple weeks. My boys are getting a little head start on Cougar parts they're going to need. I may have snuck in a thing or two for me.

Im hoping my new Cougar gets here before Christmas! :

Back in October I was fly fishing the Snake River in Jackson WY when I dropped my favorite and most expensive fly rod in the river. The mighty Snake swallowed up my rod and took it away. So after looking for two days along the banks of the river I went to the Orvis store in town and bought my Christmas present. No Cougar stuff for me!
Fly rod is a great gift. Used to fly fish with Dad when I was a kid. Truly an art unto itself.
I hear you. Just had to replace the one on my Galaxie. Thankfully it decided to go AFTER the 600 mile journey from Illinois.
Gonna have to kick Dad's butt right after I get done thanking him. Got a Summit box in the mail with a T-shirt inside, and upon reading the invoice noticed that some ceramic headers are on the way.
Nice. What headers are they?
Multiple deliveries from WCCC and NPD for me also.
All to make this X-mas gift happen - thanks to a very understanding family!
They are the Summit brand, which are Patriot. When I drove off in the Galaxie, he said he started looking for some for it (the car sat for two yrs. so the ones on it are in pretty bad shape). Aside from a blower motor that is weak, it is really the only thing that needs attention on this car.
Patriot Clippster Headers is what I have on my '68. I think you are going to like them…good looking headers and the ceramic is holding up very well!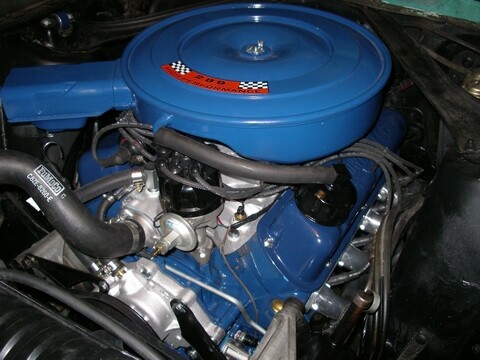 They look great on your ride. Oh yeah, thanks for the heads up on the Performer. Works great on my 289, and REALLY matched up well with my cam.
My wife has ordered some Christmas gifts for my convertible project. She won't tell me what she ordered but asked me to give her the part# for the 65-66 Mustang GT exhaust tips that I want. I'll be using the concours tips to mimic the prototype GTE exhaust.

I don't think they will be here in time for Christmas because she said she received an email about them being backordered. I'm still good with that because she got me a wonderful Cougar related Christmas gift.
Steven