Years ago when I bought my car, there was a Mustang guy in town who had NOS radio bezels. I bought one because --although I'm a stock kind of guy-- I knew that I wanted at least decent 'modern' audio and that the OEM radio was non-standard to modern head unit conventions. I still have the original AM radio and bezel, but I've modified that replacement bezel a couple times over the years to accept various modern head units. I modified it again this week for a DIN unit installation. Now I'm ready to hook it up but I need a new dash-mounted speaker. (Additional speakers in other locations may follow at a later date.)
I've spent most of the day researching the archives here and at MCnet for information on the dash speaker and potential replacements. Other than a direct reproduction replacement, I haven't found any clear data on what works and doesn't work "out of the box." I'm hoping this topic thread will serve as a repository for some solid info on the topic.
For the record, the OEM speaker (C7AZ-18808-D) is a mono 5x7 oval with a single paper cone driver. Mounting is under the dash via two screw studs (w/ standard hex nuts) at the ends of the long axis. Although I've found a few posts that claim it can be changed from below (up behind the dash, perhaps only on non-A/C cars?), the easiest access appears to be achieved by removing the PS dash trim and/or panel, which allows access via the opening in the metal dash face above the radio, where the A/C vents and/or XR7 courtesy light toggle switches are located. (This is how I've accessed mine, which is an A/C car.)
As far as replacement speakers go, there are currently four basic options:
Reproduction single cone speaker - OEM-equivalent mono
Reproduction dual cone speaker - better mono
Dual Voice Coil (DVC) speaker - ~stereo
Bracketed Dual speakers - stereo
I'm ready to move on from mono, so that leaves the other two options. I've looked at Bracketed Dual speaker options (leonbray's installation being one of the better examples), and that configuration just doesn't do it for me. That leaves the DVC option, for which I've found three products:
Truth be told, I had already decided on the RetroSound R-57N and ordered it, but when it arrived I found that it isn't a true 5x7 and that it didn't come close to fitting: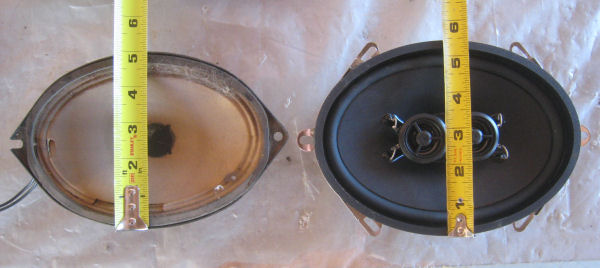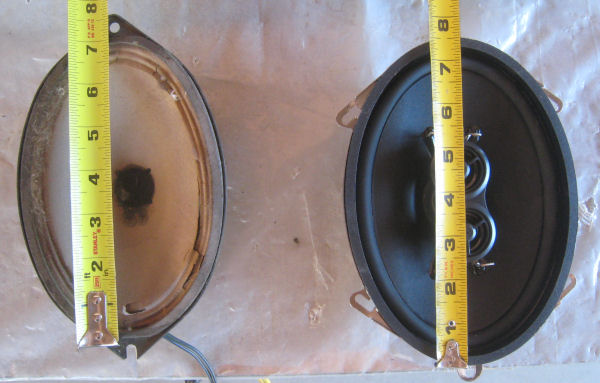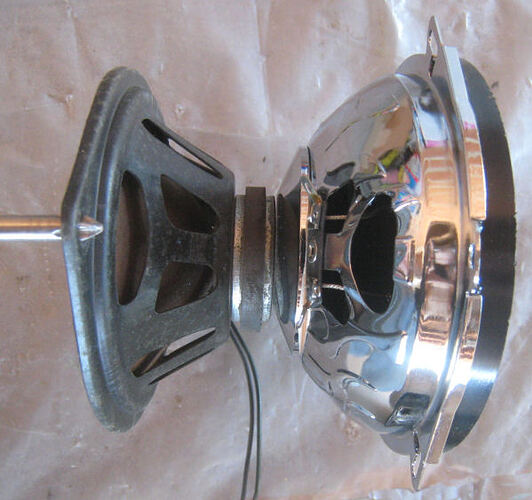 Although the R-57N is 1/2" longer than the OEM speaker along both axes, I think I might've been able to get it into place, even if it required trimming off the side mounting tabs. The primary problem was the integral chrome baffle on the back of the thing, which conflicted with the defroster duct.
That leaves just two options that I know of: the Custom AutoSound's 5x7 and RetroSound's Standard 5x7. A lot of Custom AutoSound reviews claim that their products (especially their head units) are hit & miss as far as quality goes, so I'm a little wary. However, I'm pretty sure that RetroSound's Standard 5x7 has the same 5-1/2" x 7-1/2" size, though it appears that the speaker's back profile is similar to the OEM.
To those of you who have installed either of these speakers, what info can you share about fitment and quality? Or is there another single-location "stereo speaker" option that I haven't discovered?
Thanks in advance,