I was wondering if there is any out there. Mine has some broken ribs to it. Thanks Gene
One was on Ebay I think it was a few weeks ago. It cost what a decent daily driver would. If I see another or that one again I'll let you know.
How did the paint turnout on the rest of your grill?
I have very nice one that came off my 70 convt. I relpaced it with an NOS about 20 years ago. I think I had it repaired and re chromed.
Hi Neal, I saw the one on ebay for $1.9K WOW. I wander if he really thinks he will get what he wants… I did get the paint on the grills. However, I had to get another pass headlight housing restored. The one from WCCC was bent and the holes wouldn't line up. I just got the other one back last week. But right now, I'm on hold due to a PICC line I have in my left arm. I have to do a daily infusion for a infection I have for 6 weeks. I can't do much with it for another 3 weeks or so. Gene
Hi, yes it sure is a nice one for a real nice price. Thanks Gene
Hi, can you send me some pictures of it. Send me a PM and I'll send you my email address.
Thanks, Gene
Gene,
That does not sound "User Friendly" Get well soon.
Another way you could go is with a reproduction grill from WCCC, and the aluminum back from WCCC or John's Cougars And restore your letters.
Dave Nashof from Cascade Cougar Club just did his and it looks great. He is the new owner of my Convertible and is nearly done with the paint work.
https://secure.cougarpartscatalog.com/70centergrille.html?sessionthemeid=26
https://secure.cougarpartscatalog.com/17123/31203/emblem-grille-center-xr7-repro-1970-mercury-cougar.html?sessionthemeid=26



I did buy a repro with a 7 aluminum back. But, I'd rather keep originals on the car. Thanks, Gene
Gene:
After looking at my old center grill I can see why I bought NOS. This one has good chrome, nothing broken, all four nut tabs. In the black areas you can see some pitting and also the side of the ribs. But I have seen much worse. I do remember having it rechromed though.

NOS is wonderful, but sorry to say I really don't think that part is worth much more than the reproduction one. If reproduction ones weren't available, or the quality was poor, that might be a different story…
Thanks for sharing the pictures. It has a little more pitting than I would like on the part, but what would you be asking for it?
Neal, I do have a reproduction part from WCCC that was made in China. But it came with 2 nut posts and the lower ones was 2 tapped holes. Is it suppose to be this way? If so, what type of fasteners go into the lower tapped hole?
Gene,
It takes 2 studs and they the nuts. I'm no sure what size they ae. Maybe a 6/32?
Bottom tapped holes take #8-32 studs and looks like they used the same speed nuts on those as on the cast studs at the top.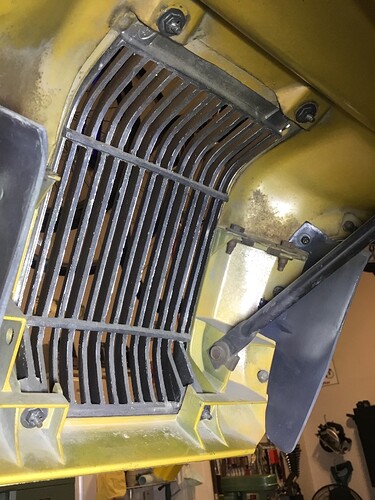 Hi Craig, very nice picture of your car. Tanks for sharing. Mine has some kind of plastic nuts on them. They don't look like the original style of nuts. I like your style of speed nuts better.
Gene
Craig, Are your Hood to Grille Fillers original or repro's. I found the Passenger side but not the Driver's side. Because of the damage they get, you just can't find them.
Gene
Yeah, I couldn't find replacement Ford grill fillers either. So I gave up and went with repro on those, the wheel center caps, and the fuel filler door emblem. Considering going back to original on wheel center caps since the color is wrong on the repros. But the repro grill fillers and emblem fit well and look original. Trying to decide on the repro tailight grills too. Mine are pitted pretty bad and wish I could find an NOS pair.
My tailight grilles have some blistering on them, but I'm going to leave them as such. I will keep an eye out on the tailight grilles. If I see something, I let you know. As far as the wheel center caps, I have repros too. What is the original color suppose to be?
Sorry for slow reply - Don at WCCC fixed me up with a really nice pair of tail light grills. The original wheel center caps were three different shades of a lighter blue. The repros are one shade of a darker blue.