I believe Bill Quay said that's the only 68 R code that got the sunroof
It's not. There is also an R code GT-E with factory sunroof. It's Augusta Green.
The Elite Marti statics indicate 7 Cougar XR-7's with 428CJ and Sun Roof. Not sure how many more Standards like that, but probably single digits as well.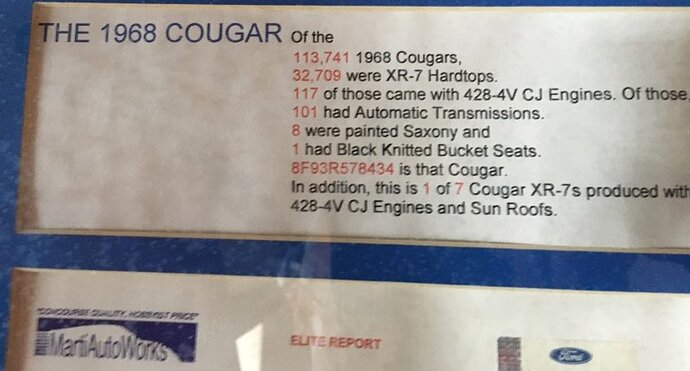 Optional 3:91 with trac lok too.
On the Marti report, yes. But according to the advertisement it currently has "a Currie 9″ limited-slip differential" and "Torsen 3:00 gears". With the tall 15" custom wheels it must be a real freeway cruiser.



In the paperwork on the engine build it shows custom pistons and a 4.25" stroke which I think makes it around 462 CI. There is a header drop bracket on the power steering ram which is unnecessary and dangerous.
I saw that too late, looks like a very nice rust free car.
Reserve not met on 5/7/22 at $59,500
I recall about 6 months ago the owner was looking somewhere between $80K and $90K
The last time it was in my barn it had a 67 427 side oiler that was punched out 60 over. Tim was assembling all original 428 date coded components for restoration to stock. He started restoring a couple Panteras as of late. It may still have the 427 in it.
The auction shows a fresh rebuilt 428CJ with a stroker kit that makes it around 468 CI.