Anyone know of a reasonable, responsible transport company that will deliver from the west coast to the east?
Check with Passport AutoTransport - they moved two of my vehicles for me ( 1970 Lincoln Mark III and a 1971 4 door T-bird ). Both fit into their enclosed trailers ! They were professional & reliable, and kept me posted as to location all during the move. I can't speak to cost ( I really didn't price compare with any others ), as Passport was the only one able to move the vehicles all the way to Spokane, from the Southern States ( they were headed on that trip to a car show in Seattle, and had a LOT of collector cars in the trailer ).
[url]https://www.passporttransport.com/[/url there phone number is : 866-582-3185
Best of luck.
Man, be careful with transport companies. We had zero experience with them before we tried to get our '71 from my wife's family. They are in PA and we are in OK. We contacted road runner transport company and gave us a quote for $1100. We thought it was a great price (and it was) so we booked it and was told they would get it picked up on a certain date about a week later. That date comes and passes with nothing. We tried to get a hold of them and couldn't get anyone. The phone would ring and we'd get a message about high call volume. I'd sit on hold for half hour or more, then I would hear a ringing like it was going to a representative but then they would just hang up.
After about three weeks of this we tried calling a few other transport companies. Turns out all these places are just brokers that do not own their own trucks. They get the info, give a quote and then try and find an actual truck that will haul it. They had quoted us too low and the actual trucks were so busy no one was going to pick up my car for that price, so it would have been sitting for an indefinite amount of time without being delivered.
I ended up just driving up there myself, renting a U-Haul trailer and bringing it to Oklahoma myself. I hope you have a better experience with "transport" companies than I did.
I have used The Waggoners several times. Very satisfied with the pricing and results.
I am seeking to update and looking for referrals to move a car from Illinois to California. Enclosed Transport

I have reached out to:
Auto Waggoners Trucking (708) 757-4237 Chicago Heights IL
United Carriers (866) 352-8180 Hollywood FL
Reliable (800) 521-6393 Sun Valley CA
Auto Waggoners (406) 248-1919 Billings MT - Mike Tiffim
Finest Carrier (949) 307-3984 Laguna Hills CA - Rowan
Added 7/6/21 5:09PM
Limdstroms Transport (800) 579-1947 x103 - Chris Stone
Please respond on this thread as to who you have had experience with and contact information. Neat part of the forum is everything is searchable for the future as well. Thank you Bill for keeping the forum alive and spam free.
When I was looking to have our cat moved from Colorado to Oregon last year, I checked with all the major players also. Many gave a vague quote and would not commit to a specific date. They also want you to have your vehicle in a large area, such as a parking lot and will not come into neighborhoods for pickup. Most require the vehicle to be running also and will not provide any assistance. I ended up finding a member here to volunteer and make the move which worked out great for me. Probably cost me a little more, but well worth it. If I ever need a vehicle moved again, I will hire a local flat bed tow company or do it myself.
So my advice is to STAY away from Auto Transport Companies (especially if you are transporting a classic automobile)
I used Intercitylines to get my new purchase from LA to Denver back in October. They weren't the cheapest, but kept me up to date on the delivery.
I did have to wait about two weeks for pickup as they had to coordinate other deliveries on the way…they were dropped off in how they were picked up…only touched at pickup and delivery.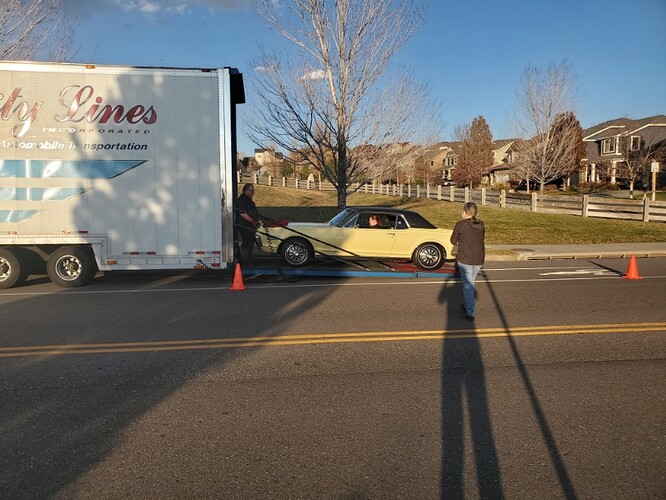 When I do not move it myself, I have used both Reliable and Intercity Lines. I have used their online quote system without any issues. They are both asset based companies that have their own trucks and drivers. You want to stay away from brokers.
Reliable I have only used for moves to / from MCACN as they offer a special rate for that and I had the same driver both ways. Picked up and dropped off in front of my house on a residental street.
Intercity has always been a little less money than Reliable and I have never had an issue with them. They also drop off in front of my house. (Outbounds have always been arranged by the buyer), so I can not speak for pickup from Intercity.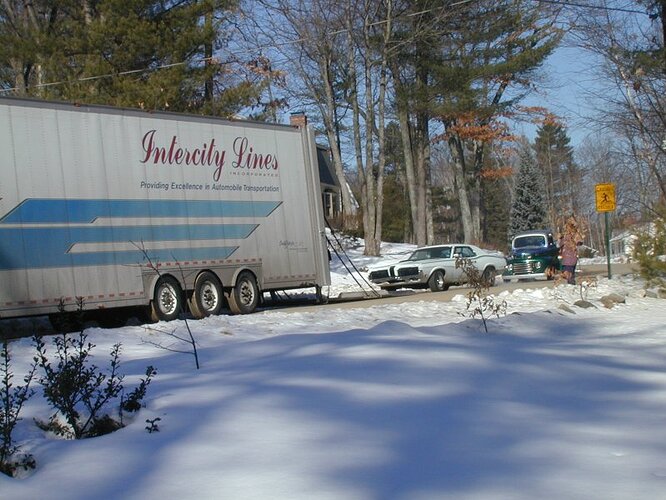 The pickup truck was being delivered 4 miles from me, but the owner was not available to take delivery until later so mine got delivered earlier in the day than expected.
I've used these guys https://www.a1autotransport.com/ a few times with good results. Typically come in cheaper than the other quotes I've gotten and never had an issue with the service. Was a little nervous the first time since they were quite a bit cheaper and I've heard that's a bad road to go down with some shippers, but after a couple times with them they'd be my first call now.