I bought the vacuum line kit to replace all the hoses in my 67 Cougar with AC. (The original vacuum hoses were mostly missing.)
I have the diagram showing which colored lines go to where, which is helpful. However, in the diagram the purple line goes to the A.C. Vacuum Switch (Vacuum Switch - A/C - Repro ~ 1967 - 1973 Mercury Cougar / 1967 - 1973 Ford Mustang ( 1967 Mercury Cougar, 1968 Mercury Cougar, 1969 Mercury Cougar, 1970 Mercury Cougar, 1971 Mercury Cougar, 1972 Mercury Cougar, 1973 Mercury Cougar, 1967 Ford Mustang, 1968 Ford Mustang, 1969 Ford Mustang, 1970 Ford Mustang, 1971 Ford Mustang, 1972 Ford Mustang, 1973 Ford Mustang ) at West Coast Classic Cougar :: The Definitive 1967 - 1973 Mercury Cougar Parts Source), but with no detail about how exactly the vacuum switch is connected.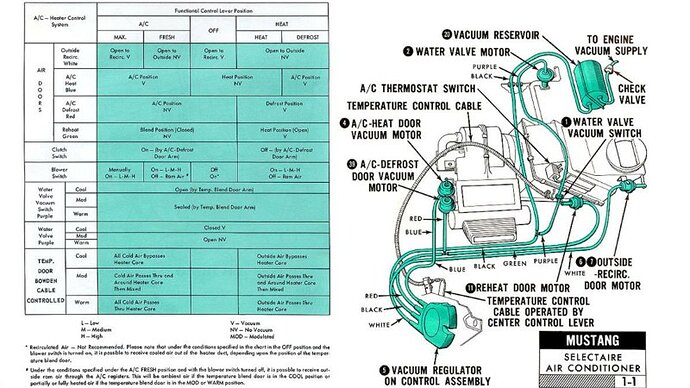 I found the vacuum switch sitting in my glove box, so I connected it into the purple line, but now it's just hanging there in front of the heater box, and I'm sure it's supposed to further connect in somehow.