Years ago, I took apart my console and radio compartment to fix some issues. In my inexperienced youth, I didn't take any documenting photos or label fasteners. I've since reassembled things to the best of my ability/memory while using the below diagram, but I have lingering questions.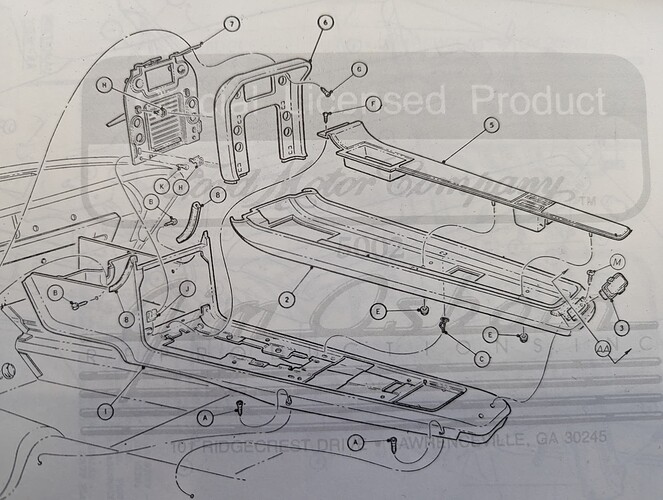 Does anyone know where to find replacement screws/retainers for the two fasteners above the radio opening? They are labeled "G" in the diagram. None of my assorted screws seem to fit, and I'm missing the receiving U-nut clip on one side. Here is a picture:


Where can I find the replacements for the 4 screws that mount the base of the console to the floor? They are labeled as "A" in the diagram. A previous owner had the carpet replaced, but never reinstalled these. I've looked online, but can only find results for the 4 long screws with 3 brackets that hold the shifter plate in place within the console base.

I'm also missing the 2 screws labeled "B" on either side of the console upright under the dash. It would appear these are supposed to screw into the bottom tabs that come off the radio bracket (not shown in the diagram), but my car only has a screw hole on the passenger side of the radio bracket. Can anyone verify where these mount and where to find replacements?

After reassembling, I have a decent gap between the shifter plate and console surround. See pic below. I can't remember if it was like that beforehand, but I did find a lot of loose change in there. Are those clips (labeled "C" in the diagram) supposed to hold it tight against the shifter plate? I don't recall seeing them on my car.

Thanks for any assistance!