Here is what it looked like when I owned it, the baby is now 16! The car needs to be taken apart and done right. Notice the grille bars were all present when I had it. Tom L now owns the blue one in the background. The blue E is unique in that it came with Headrests, rear seat shoulder belts and at the time was the only known GTE with a VIN stamped block. It was the first GTE I ever found as a kid. Hoping Tom sells it back to me! What is funny is that both cars came with the story that the 7.0 LITRE emblems were removed and stored away for safety and I would get them when they found them. Both owners came back to me later and said, no way, you made too much money on ebay, I am keeping them!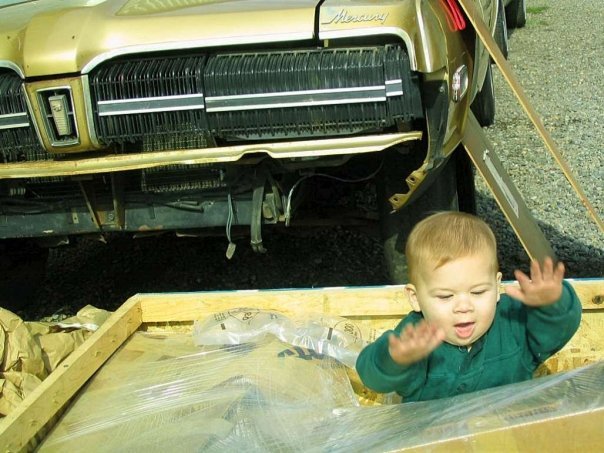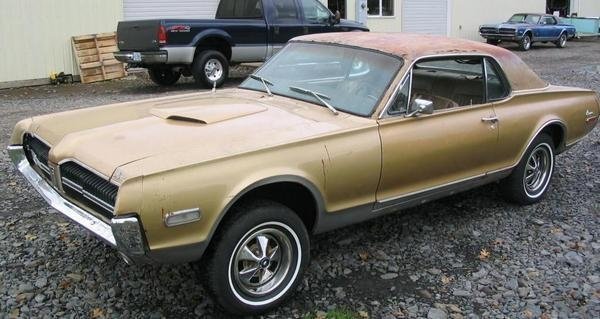 Strongly recommend anyone who wants to buy it contact the Registrar.
I see some issues with this one. Headlight doors aren't straight. Paint missing on passenger headlight lid. No pic of the motor. No telling what else we aren't being shown. Good luck with that price tag.

link to their site for more photos
Me too. Also, engine pic on the listing.
Totally upside down center grille by 2021 standards, too…
Maybe I'm in the minority, but I think the color combination is horrible, the top and the interior are washed out, and frankly if that gold is the same as the gold on Shelby's in 68, it sure doesnt look good, the Sunlite Gold on the Shelby's was beautiful.
Mercury Grecian Gold and Ford Sunlit Gold for 1968 are the same color. Both are paint code letter Y and have identical mix formulas.
I like the gold/argent silver combo. I also think it looks better without any vinyl top. Two tone paint scheme is plenty.
Darker colors generally look better with the lighter silver bottom color. Wellington blue, black cherry, Augusta green are awesome GTE colors. Cardinal red too, obviously.
Back in my previous occupation as a body man, I preferred painting the lighter metallic shades like Nordic blue, Lime frost, Grecian Gold, because those are high metallic content paints and were challenging to lay down without tiger stripe or mottling.
Tom look what I picked up the other day! Next time you order mention it and I will throw it in the box for you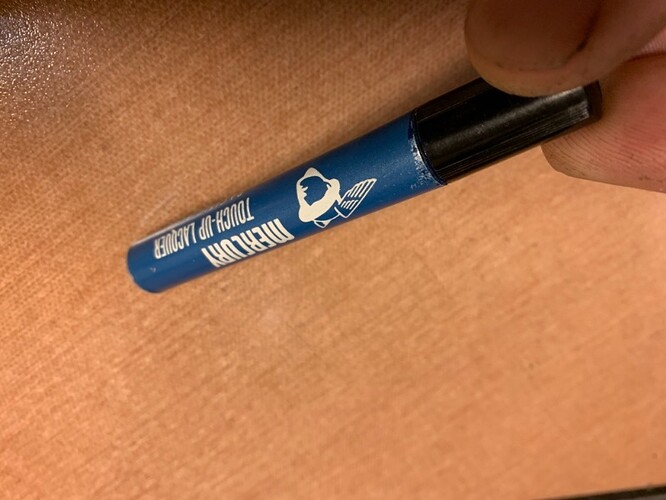 Awesome. Thanks Don. Do you have the really good GT-E fender emblem inserts available? I definitely need those.
Interesting you mentioned the original GT-E emblems were kept by Red up in Washington. He failed to mention that in our phone conversation

.
He did state he has the original factory build sheet he found under the rear seat, but didn't know where it was located in his house. "I'm a bit unorganized" he said.
How much of a bounty should I offer Red for that document??? He needs a motivator…
He is not in the best health. I and two other of his long time car buddies are in charge of his collection upon his passing. He has outlived the doctors predictions by more than 20 years and is feisty enough enough that you probably will not hear from me anytime soon… Red was my first ever adult car buddie. Met him when I was 19 and he came to look at my 68 J code Calypso Coral 4spd car I had for sale for $2500. He still cruises around the EVERY swap meet in the NW looking for bargains on his Rascal Scooter. Never know when you might need a spare for that car you might restore someday.