I thought I might as well start a separate thread for this issue I'm having and see what ideas are out there! I know these issues have been talked about before, but figured I'd see what people thing of my situation.
My Cougar has been running hot, according to the TEMP gauge in the dash. Of course it doesn't give me an actual number, it's just a needle on a scale. But it'll get up there about 3/4 of the way up, sometimes more.
I have a 289-2V with A/C, and my factory 24" FoMoCo radiator and 7 blade clutch fan. I think it's actually a 3-core radiator since there's no empty space like you'd see with a 2-core. Anyway it must have been re-cored at some point because it's in good shape. 180 degree thermostat was installed at the time of the engine rebuild. It seems to work since the top hose gets very hot.
Chasing this issue, I took the radiator in to a radiator shop recently to see if it needed to be boiled out, if there was scale buildup. I also had one little leak at the top tank. The guy there (old cranky 74 year old who has been doing this forever) gave it a flush in both directions and there was just a little bit of dirty water that came out. He said it didn't need to be boiled and didn't want to waste my money. He patched the leak, and I touched up the paint and put it back in the car. The issue persists.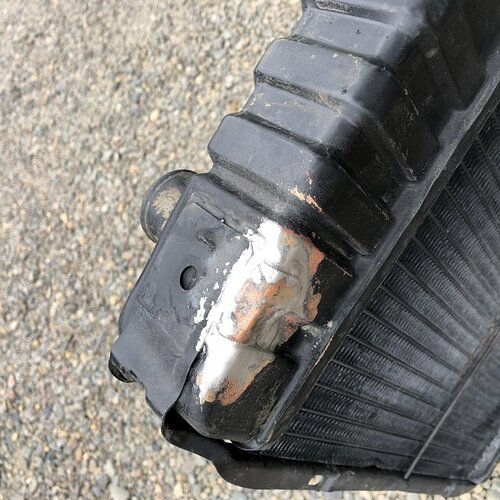 Another thing I'm about to try is a different fan clutch. The one that WCCC has been selling (which I have on the car now) isn't the one that Hayden calls out for this application. Looking at it, it seems like the fan isn't far enough into the shroud. So I ordered one , and as soon as that arrives I'll be trying that, but I'm not sure if that's going to entirely solve the issue. Here's a view of where it's at now: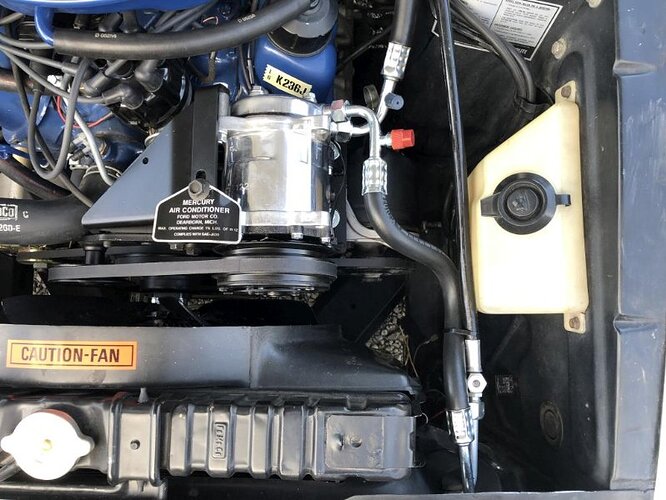 I recently had a tune-up done and the timing is now set to 6° initial (factory spec) and 30-something total advance. It was also running hot when the timing was further advanced.
Running 50/50 distilled water and glycol with Water Wetter added. When I put the radiator back in, it drank a gallon of each plus a little extra. I thought the capacity was more than that, but I guess there was still coolant in the block. Anyway, still hot on the gauge.
I need to take an infrared thermometer reading and get back to you on what it says. What should I be looking for? Is the upper hose the ideal place to measure temp?
Is the default happy operating temperature supposed to be in the middle of the gauge like I'm used to seeing on other cars?
Does paint on the radiator fins make any difference? There's also the A/C condenser in front of the rad, and I painted it black as well. Wondering if that contributes enough to partially block airflow.
Also wondering if I should ditch the fan clutch entirely, use a spacer and run it directly. Not sure.
Open to your ideas!