Bet you've never seen one of these before!
Congratulations to Al Juraco on the selection of his Calypso Coral GT-E as the February 2016 RIde of the Month!
Orange is the New Black
The very large truck looming in the driver side window certainly had Al Juraco's attention. The GT-E he was riding in had fish tailed into the path of on coming traffic, and he was beginning to wonder if his first ride in a GT-E might possibly also be his last.
He had come to visit Royce Peterson and learn a bit more about the GT-E. It was in fact, the first time he had ever seen one in person. When Royce offered him a ride there was simply no way he could turn down the opportunity. The GT-E is a rare and elusive beast. Only 356 had been built with the W code 427 side-oiler of Lemans and NASCAR lineage. Rare cars like this are often relegated to garage queen status; too precious to risk the hazards of street traffic insanity. Al's expectations were that they might make a tepid run around the block, returning to the garage with a sigh of relief that nothing bad had happened.
So when Royce tromped down on the gas pedal from a 4 way stop, turning the two rear tires into a smoking inferno of melted rubber and asphalt, Al found himself straining his neck to keep his head out of the back seat, and his ears from touching behind his head. It was very clear that this was not going to be an ordinary ride in an ordinary car… You see, something happens to Royce when he gets behind the wheel of one of his GT-E's but that is a different story.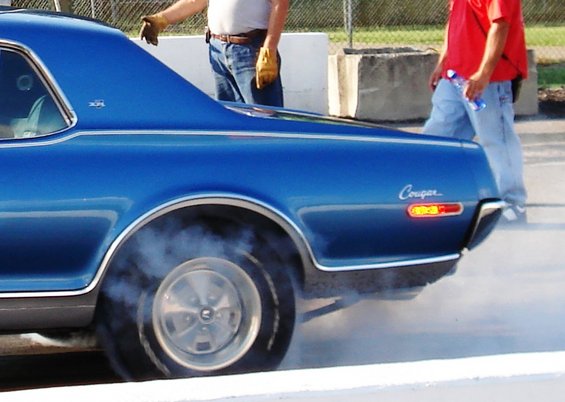 Rather than lift off the gas, Royce dialed in a little opposite lock and brought the GT-E back into its correct lane. Eventually, circulation returned to Al's face, now almost permanently fixed in the kind of grin usually associated with powerful narcotics. Let's just say Al was hooked.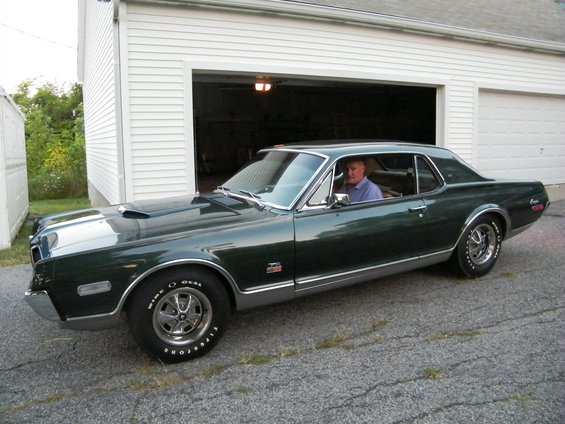 There was one other thing. The perfect GT-E would also have to be painted the perfect color, Calypso Coral AKA Competition Orange. Al had reviewed everything he could find on the internet about GT-E's but as it turned out, the color was not among the standard offering for the GT-E. Digging deeper confirmed his worst fears. Although it was available in 1968, Calypso Coral wasn't listed among the 16 colors offered on any Cougar in 1968. Damn.
The great thing about talking to Royce was that it seemed like there wasn't anything about the GT-E that he didn't know. So it was just an off-the-cuff question when Al finally asked "Did they make any Calypso Coral GT-E's?" It really is a question you hate to ask because you know it is more than likely that the answer will be a heartbreaker. So Royce's answer "They made a couple of them, you need to call Jim Pinkerton and see what he can tell you" was incredibly good news.
Al did not hesitate to call Jim. Jim was able to confirm the existence of the two cars. Both were special ordered and shipped to Canada where they both remained. Jim made inquiries on Al's behalf to see if the either of the cars might be available for sale. It was long shot, but at least there was a chance. The thought of a GT-E, in Calypso Coral no less, was impossible to get out of his head. What made it even more difficult was the possibility that the result might be no answer at all. Would the owners even respond?
Finally there was a reply. One of the GT-Es was for sale, or at least what was left of it. The car was shell and the original drive train was missing. It did come with a correct block and what would turn out to be a truck load of other miscellaneous parts. A flurry of calls and emails went back and forth and a deal was struck. Buying the car was just the beginning. Retrieving the car called for a 1896 mile road trip for Al, in his truck pulling his trailer.
Once back home with the car, careful inspection revealed that over all, the car was solid. Unfortunately, the rear quarters had been replaced very poorly and a good donor would be required to fix the GT-E. A rust free donor was located in Arizona with the assistance of Bob Tufts, and shipped to Illinois for the restoration to begin. A multitude of other parts would also have to be hunted down and purchased.
With the help of John Harris and Lyle Groenwold, two local motorheads that operate a local shop, Al was able to replace the complete rear quarters and achieve factory quality seams, even leading in the roof seam. After that, the body was moved to another shop for bodywork and single stage acrylic enamel paint performed by Lyle.
Al tells us: "John is an amazing welder and fabricator and also a great mechanic and engine builder. He assisted greatly by using his contacts in preparing the block and heads. He also lead the way in building the motor and tuning/break-in on the test stand. I was lucky to be able to assist and learned a lot about motor building in the process."
In the mean time, Al did most of the work, restoring the other sub assemblies and reconditioning the parts. Once the car was ready, he also did all of the assembly with the exception of the headliner. Following a last ditch effort, Al was able to complete the GT-E in time to take it to the CCOA 2015 Eastern Regionals.
Like so many Cougar enthusiasts Al's addiction started on the cheap. His cousins gave him a well used Aurora AFX HO track and it happened to include the number 3 Cougar which quickly became his favorite car. Growing up on a farm as one of 11 siblings, cars were not at the top of the list. In Junior college, when it was time to buy his first car, the memory of number 3 led him to buy a '67 C code Cougar. Two years of battling rust and mechanical issues eventually led him to a more reliable pickup, but the thought of the Cougar did not die. Within a few years he purchased another '67 C code and immediately began restoration. As the work progressed he found another driver quality Cougar to enjoy while the restoration progressed. Many other Cougars would follow in a way that is so common among Cougar enthusiasts and addicts.
If there were a sort of witness protection program for Cougar owners, Al might qualify. We have heard rumors that this might not be the only Calypso Corral Cougar in his life. We aren't saying anything. All we know is that Al's wonderful wife and two kids have learned to tolerate and even appreciate his Cougar and everything that entails.
Following Royce's example, Al drives his GT-E. Except he is maybe a little more careful about keeping it out of the path of oncoming trucks. We sure hope he is successful as this is one Cougar that we all want to see more of.