The July 2016 Ride of the Month is Odd-Roar Stordahl's 1970 Cougar XR-7 Convertible!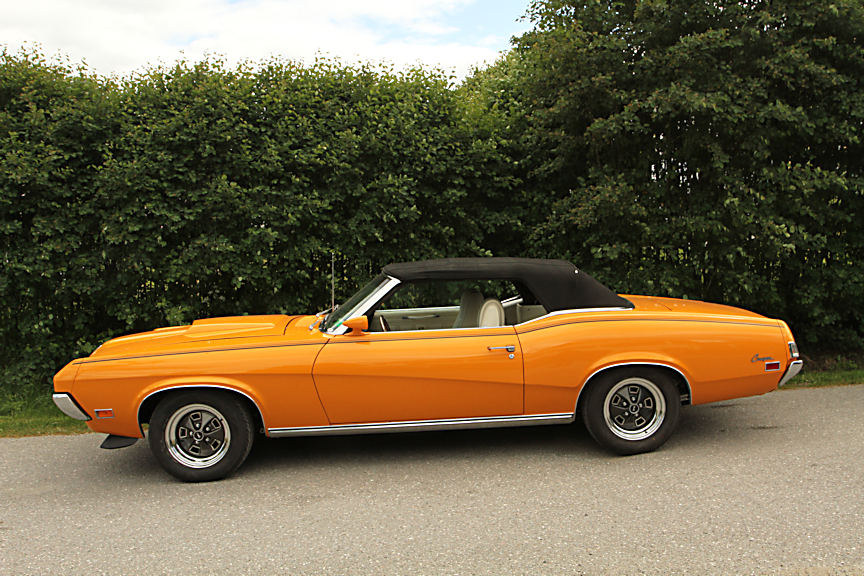 (Editors note: When the voting was done this month, Odd-Roar was on vacation so we had a bit of a delay in getting the materials. I think you will enjoy his story.)
A Texas Cat goes to Norway.
Every one knows that finding Cougar parts can be difficult and frustrating. It sure is a lot of work. Now imagine that you are doing it where it's almost 6PM where you live, but they haven't opened up for day in Oregon. And they speak a different language, use different currency, and everything takes weeks to ship, and the shipping often costs as much as the product you buy. Under these circumstances you have to be very patient, enthusiastic, and determined to restore and drive a classic Cougar… Not to mention that the price of fuel is at least 4 times higher than the US!
Those are just a few of the challenges faced by Cougar owners in Norway where Odd-Roar lives. He does have one very important thing in his favor: his sister is Gry Stordahl, the first lady of all things Mercury in Norway. It was her assistance that made Odd-Roar's car possible.
The Competition Gold Cougar Convertible is his first Cougar, but he is no stranger to the car hobby having owned several European classic cars. What got him interested in the Cougar was driving a few of Gry's fine fleet of classic Mercs. Odd-Roar decided it was time to own an American classic of his own that he drive more frequently.
Gry spotted the convertible Cougar on Craigslist in Texas. The car appeared to be solid and the price was right so Odd-Roar was instantly interested. Although a great deal of distance separates Norway and the USA, what followed is proof that some things are universal. His wife did not share his enthusiasm. He knew the car was perfect for what he wanted and Gry was also on board. What to do? A plan was hatched: Odd-Roar and Gry would buy the car together, and then would tell Odd-Roar's wife that they were going to resell the car for a quick profit to calm her down. Once the car arrived they did make a half hearted effort to sell the car. In reality, the car was never advertised. In time it was apparent that no one seemed to be interested so the best thing Odd-Roar could do was to buy Gry out and let it sit for a while to see what happened. Eventually the Cougar was accepted as a new member of the family.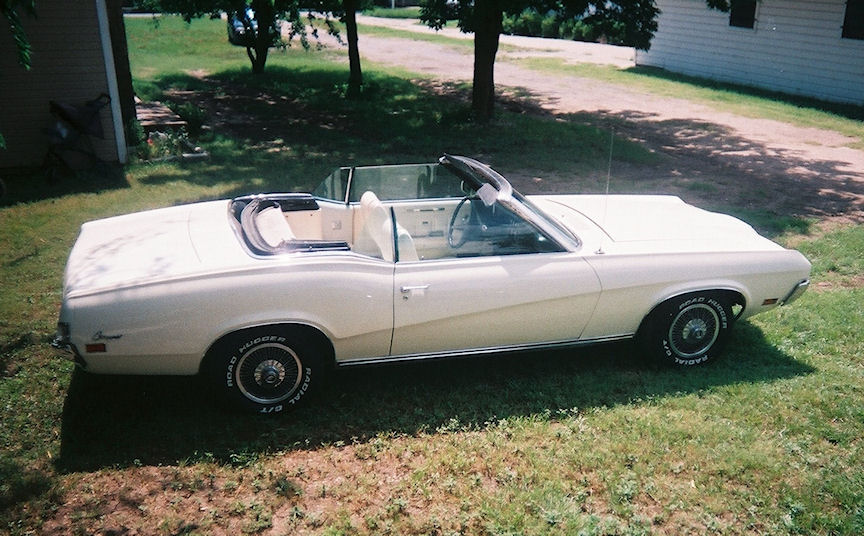 Like any classic car purchase the car needed a few things… to make it saleable (well, actually to make it drivable!). It all started with carpets that needed to be cleaned. And then floor pans that could use a few patches, and then the ball really started rolling. We are all familiar with how this goes. You start to fix one thing and then you decide, "while I am at it, I might as well" take care of the next thing, and then the thing after that… In short order it ended up becoming a total restoration including rebuilding the engine, a new interior, and pretty much everything else. Gry and her friend Leif did the majority of the work and this thread https://cccforum.discoursehosting.net/t/tex-cat-restoration/323/1 documents the process.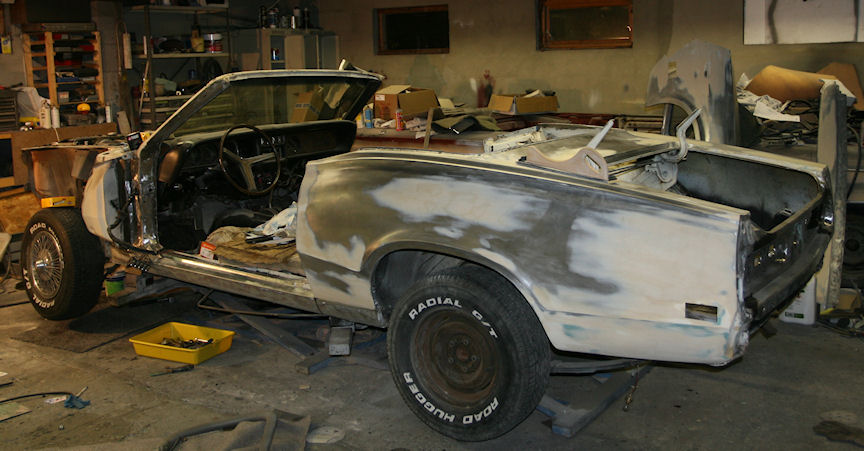 The other part of that "while I am at it I might as well" syndrome is that you just can't help but make a few improvements. And then you ask why stop at a just a few? Since the car was completely stripped of paint it would be relatively easy to change the color. Competition Gold was Odd-Roar's favorite. Since it was an Eliminator color, and Gry had the Hood Scoop, front spoiler and rear wing in stock… Why not build the car that Mercury never offered, an Eliminator Convertible. Even the white convertible top would be replaced by a much better looking black top.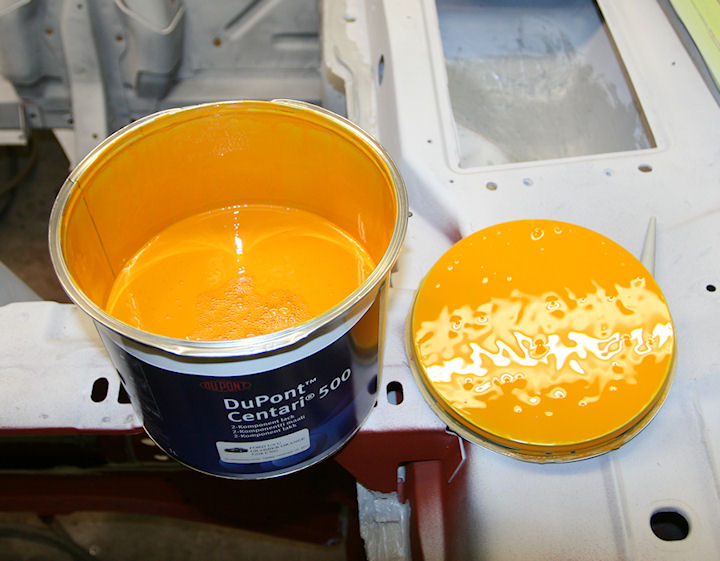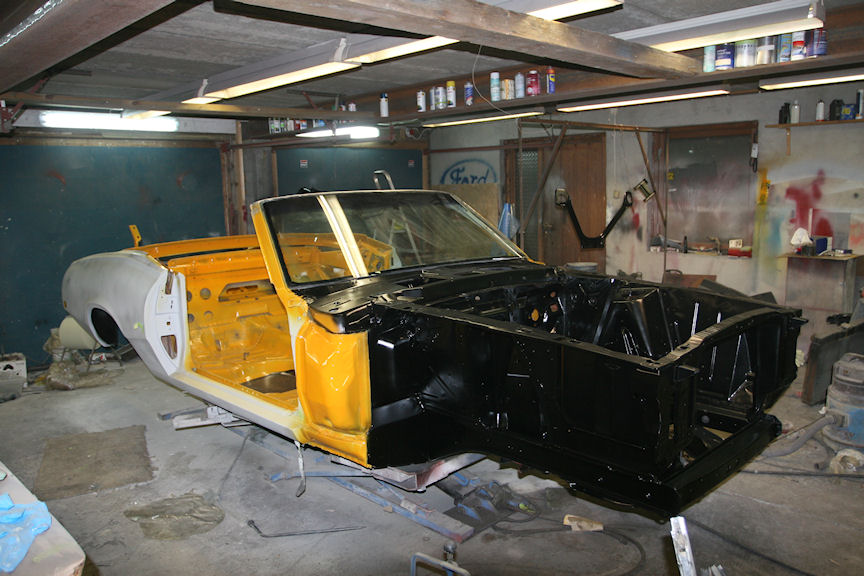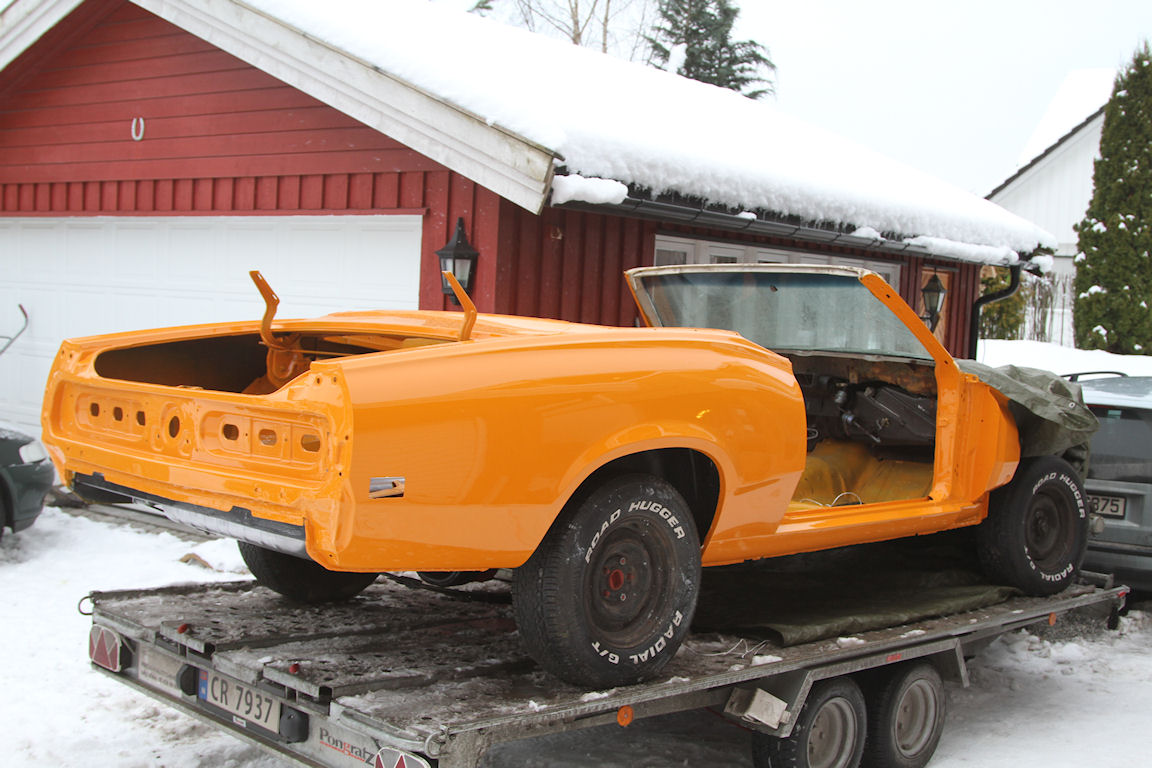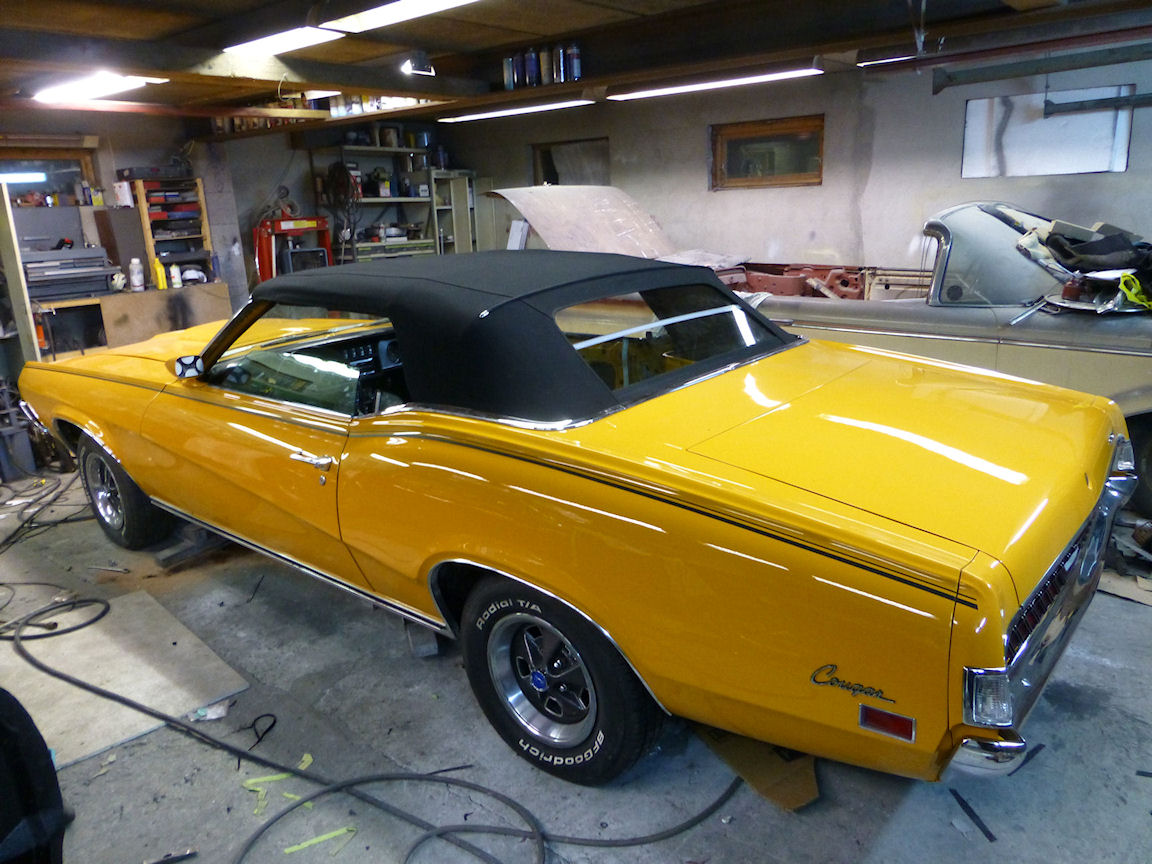 The Cougar was already very nicely equipped with Power top, front disc brakes, steering and windows. Air-conditioning, tinted glass, and AM FM stereo radio were three more uncommon options. Originally the car was ordered at Town and Country Lincoln Mercury in Sacramento California, and delivered in less than six weeks on April 24th, of 1970. Published the same day, Life magazine featured Jim Lovell on the cover celebrating the safe return of the Apollo 13 astronauts.
When asked about his favorite attributes of the car Odd-Roar had this to say. "First of all, the colors. It really stands out among other cars. Then its drivability, just the feeling of driving the car with the top down and listen to the sweet sound of the engine is amazing. The engine got a pretty nice upgrade when it was rebuilt and now has a 4 barrel intake and carburetor and a hotter camshaft. That makes it way stronger than before the restoration and fun to drive."
The most recent adventure for Odd-Roar and Gry has been the battle with the local bureaucrats getting the car inspected and registered to make it legal to drive in Norway. As it turns out the Norwegian Version of the DMV may be setting the standard for the world when it comes to aggravations. The good news is that in spite of the best efforts of the bureaucrats, they were able to get the car on the road. Summers are short in Norway so we hope he gets to enjoy the top down fun of his classic Cougar XR-7 convertible.