Now that I can drive my 68 again, I note that the steering wheel/column has an odd bit of play: it sags at the under-dash mounting bracket. But the wheel can be lifted up, and the column tube pivots up/down roughly at the point of the mounting bracket. And this car doesn't have a tilt-away wheel.
I've made a 7-second video from the passenger side for anyone who's interested. You can see the column from the wheel nearly down to the firewall. The vid can be downloaded here [1.66MB]:
The under-dash bracket, upper clamp, lower clamp, and cover are all tight, probably like the day it was new. That said, I see now that the lower clamp (at least) may be shifted forward about an inch, as evidenced in the photo below: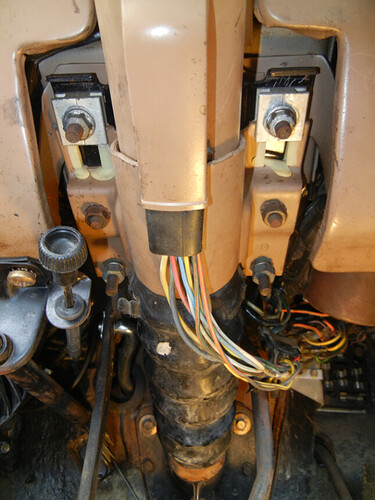 A bit of history: This vehicle suffered a fender bender in 1988, which resulted in replacing the front right fender. I spilled a drink but don't recall hitting the steering wheel. It doesn't appear to me that the collapsible section of the column tube is collapsed at all. Still, page 3-24 of the 68 Shop Manual states:
The shift tube > [N/A this vehicle] > and the steering shaft are provided with nylon dowels and will shear and allow them to collapse in proportion to the [column] tube upon impact.
Once the steering column has been collapsed, a complete new column must be installed with new brackets which will also shear away during impact.
I supposed it's possible that the steering shaft collapsed a bit and I never noticed it before. If that's all it is, do you think I could just loosen up the mounting assembly bolts, shift the assembly back toward the steering wheel, and re-tighten to fix it?
Another possibility, I suppose, is that some of the internal nylon dowels have sheared simply due to age. Has anyone experienced this before? Even though Ford/Mercury says replace the whole kit & kaboodle, are the dowels replaceable?
If not one of these options, what do you think the problem may be? Any and all ideas welcome.