When I put the dash back together with my new cluster repro PC (and the dash pad back in - which will now come back out arrrrrgggh), one of the dash backlights was out, the bulbs are all good, just seemed to have some bad contact with the sockets with the new PC for some reason. I missed the one back light being out, they are kind of dim (and of course it is in the middle upper, under the high beam indicator). When I looked at the dash in a dimly lit garage (how romantic!

), I found it and reconfirmed how dim the backlighting is, even at highest setting.
So, yesterday it occurred to me, why not upgrade at least the backlighting bulbs to LED? So I went looking. I like (and ordered 10 of) these: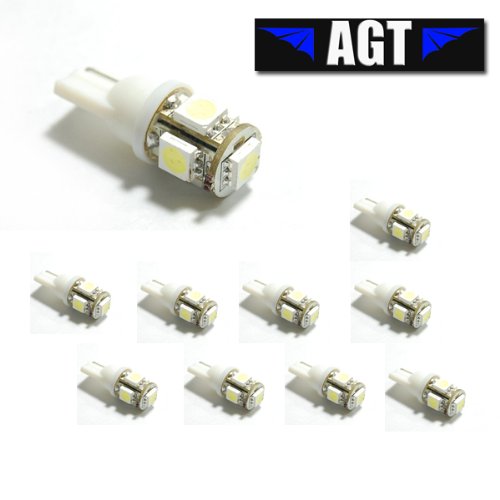 I highly doubt they are German LED's (AGT = Advanced German Technology, probably some weak Chinese attempt at marketing?) but figured they had some slim chance of being better than the Chinese crap you can buy from a zillion places on feebay.
Anyway, I think I will have to/want to remove the blue diffusers from the cluster housing (because these LED replacements are about 1.125" in length, longer than the 194 bulbs and will hit the diffusers). That and I read somewhere that the idea of the diffusers originally was yellow light, blue diffuser, greenish light? We'll go for straight white (ordered white LED's) and see how things look.
Think I made a good choice of bulb type/configuration (amongst the many), 4 large chips around the sides and one on the end. Should (I hope) throw a lot of light around as the originals do. I looked at the 10 chip and 20 chip configurations of this type too but went with these figuring less cheap Chinese chips to burn out? I know some people have tried other bulb configuration types and the directionality of those types was an issue.
So what has peoples experience been?
Oh, and do these LED bulbs dim okay with our headlamp switch dimmer rheostats (or at least dim somewhat, I figure they might just turn off below a certain voltage)?
Thanks,
Bob