Challenging everyone to post an awesome vintage Cougar racing photo. I'll start it with this one…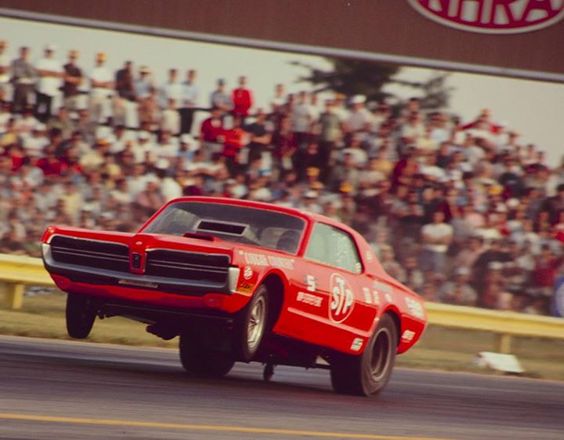 and this one…


Ewww, I'll play!
Phillip

Boy, that RaceStoppers scan of mine sure has made the rounds!
That pic is from my 1969 Carolina 500 program. The "RaceStoppers" were a marketing campaign of Pure Oil. From left to right (in the pic at BME) they are: Sharon Brown, Patty Allen, Helen Pollock and Ann Romeo.
I first posted that scan on a NASCAR forum and Patty Allen's daughter and ex-RaceStopper Doshia Wall (she took Helen's place) contacted me

Here is another pic of them with Cotton Owen's car.
Here are some early color pics of the first Bud Moore Cougar before it was numbered or decal'd.
Note it has the Magstars.
These photos are from Mercury racing boss Fran Hernandez's Facebook page. When you have some time, go check it out. Lots and lots of great racing Cougar pictures.
That first pic in CatsRock's post of the orange and white #04 is of C.B. Gwyn's NASCAR Grand American/Grand Touring/Baby Grand Cougar.
C.B. is from Marion Va., which is right next door to where my family lived for many years. I would see C.B and his Cougar listed in my old NASCAR programs with a hometown of Marion so I looked him up and gave him a call one day.
He was super, super nice and told me about his Cougar. It was not (as some have believed) built from one of the ex BME Cougars but from a dark blue '68 street Cougar that had been wrecked. C.B. told me that Holman & Moody helped with the build and Ford helped a little with the engine.
I have heard that that car still exists.
Phillip

Here is another nice quality color photo of the Bud Moore Cougars all dolled up in their Baby Grand regalia.
Wait, what in the world is going on here? 70 body with a 67-8 roof structure? That's something I've never seen before…
Good eye Andrew.
In 1969, Reid Shaw of Shaw Racing Enterprises bought two racing Cougars from Bud Moore. It is speculated that one of the Cougars had it's origins as a BME Trans-Am Cougar that was brought into and updated for the NASCAR Grand American series and the other Cougar was constructed by Bud exclusively for NASCAR.
Wayne Andrews was Reid's driver and they raced the Cougars with the 67/68 body work into the 1970 season when Mercury actually complained to Shaw that they were campaigning an old model and so sent Shaw Racing brand new 1970 sheet metal which they then hung on the 1968 body.
This Cougar was wearing it's "1970" body by the July, 1970 Daytona Paul Revere where Andrews finished second.
This Cougar was badly wrecked on May 9th, 1971 at a race at the Springfield Illinois Fairgrounds.
This picture is courtesy of Dennis Andrews, Wayne's son.
Phillip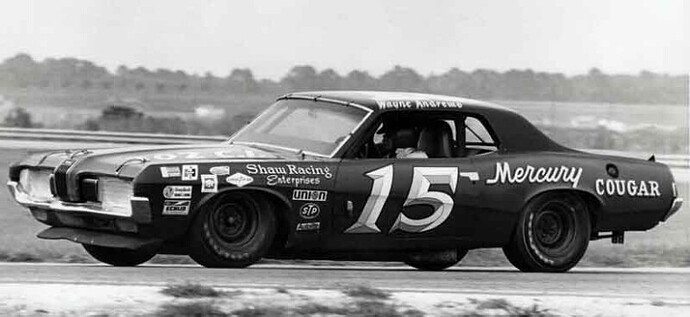 Great photos gents! Wish I had some to contribute. Keep them coming.
The other Cougar that Mr. Shaw bought retained it's 1967 sheet metal and is thought to be the ex Trans-Am Cougar.
In 1971, Reid Shaw bought an ex Holman & Moody Mustang and sold the Cougar. There are pics of Randy Banister racing it at the 1971 Citrus 250 at Daytona and it is still sporting its '67 sheet metal and what appears to be a Trans-Am rear trunk lid.
Rumor has it that that Cougar is still out there. That ladies and gents would be THE Cougar to find.
Attached is a terrific photo of Mr. Andrews with one of the Shaw Racing Cougars that is available for purchase over at Getty Images.
And BTW, all of the history I'm imparting here is also courtesy of Dennis. He has been very gracious in sharing his knowledge with me.
Thanks for all the updated info Phillip

Good to have some details on old photos. I had posted this one on another thread

After my last post I did some Googling and found this one:
This picture (and the video) was what got me looking around and then starting this thread! I have to say that I am impressed with the response to my challenge! What an awesome bunch of old photos!!